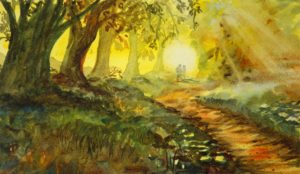 My website moved to a new home – letaart.com! Read details about purchasing, commissions, and shipping at the contact page.
---
FAQ
---
HOW TO TAKE HOME THE PAINTING YOU LOVE
A

sk questions you might have.
O

rder
through the website or request an invoice.
T

he artwork will arrive in 3-4 weeks.
LOVE THIS PAINTING, BUT IT'S TOO BIG! I DON'T HAVE ENOUGH WALL SPACE.
How big is big? One of my largest sizes is 4 feet long and it's hard to visualize how large it actually is. However 48″ is smaller than width of a loveseat. It's just slightly wider than a twin bed headboard.
Art might seem big, but so are walls and you will only notice it when you hang a painting that is too small for it's space. I suggest to take a blue painters tape and tape off the size of the art you want on the wall you think to hang it on, then step back and observe.
WHAT IS YOUR STORY?
My art journey is described here. I am happy to chat or answer any questions about my story, inspiration, work process or details about specific artwork, just send me a message or an email.
WHAT MATERIALS DO YOU USE?
I choose highest quality archival materials for my artwork and with proper care these paintings will last for generations.
My acrylic paintings are created with Golden acrylics, both heavy body and fluid, on either hardboard, or canvas. Smaller size paintings, 18″x24″ and smaller are sometimes done on canvas board or a board which will then require framing. In my large scale works both hardboards and canvases that I chose have deep edge of 1.5″ or more and are painted around the edge. As a result these paintings can be either framed or hung unframed for a contemporary clean look.
Watercolor works are created with Daniel Smith fine watercolors on Fabriano hot pressed finest quality watercolor paper. My watercolors are then either matted and framed under glass, or varnished, mounted on hardboard and framed without glass in a similar method to acrylic works.
SHIPPING OR DELIVERY
Are you my neighbor? If you live within about an hour drive from Pleasanton CA, I am happy to deliver and help with installation of the painting.
Shipping is complimentary within continental US. International shipping will require an additional shipping charge and will be billed separately.
I will pack all paintings with great care and ship them as soon as they are safely packaged and the payment clears in full. Expect it to arrive in 3-4 weeks.
ACCEPTED FORMS OF PAYMENT
Credit cards, PayPal, Zelle, Venmo, or bank transfer. Paintings are shipped or delivered when the payment clears in full.
COMMISSIONS
Like my style and have a painting in mind that you would like me to work on? Please read my commission policy first, and then contact me .
PRINTS
My plan is to offer archival giclee limited edition prints of my artwork soon. I will post an update when it's ready. Additionally, small size prints can be ordered from my website letaart.com hosted by Artspan with a wide variety of print options, including mats and frames. It's a work in progress.