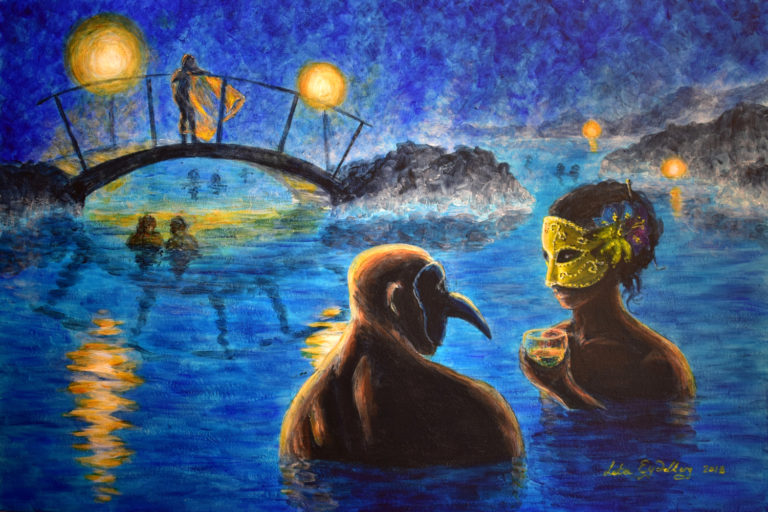 Acrylic on canvas 24″ x 36″ x 1.5″.
In 2018 we visited Iceland Reykjavik for a short few days trip (see me post about the trip). On the last night of our stay we went to the famous Blue Lagoon hot springs resort. We hesitated as the the lady at the tourist info counter told us it's an overpriced, crowded tourist attraction that is basically not worth it. We decided to give it a try and did not regret it. It was cold and windy night. We did not brave a short dash from the door to the natural pool, and instead waded through the corridor and under plastic curtain that allowed us to stay in the water all the time. The cold northern wind whooshed over our heads if we stuck them slightly higher than the foggy cloud floating just above the water.
Yes, it was indeed crowded, but the view was surreal. Unassuming lamps lit the water and gave enough light to be able to take the view in. There was a bar right in the water where you can get a drink. We were told that the springs are also famous for its clay that is supposed to do wonders for one's skin, and everyone was given a generous amount of this clay to smear on one's face. So people around us were walking, swimming and wading with cups in their hands and clay masks covering their faces.
I could not stop my imagination. What if it was a carnival, and people were wearing fancy Venetian style masks? It was fitting. I could not take any pictures, so I was standing there, taking in light dancing on the water, white salt deposits on the rocks, bridges over dark water channels, shadows of people, faint glow from northern sky. I came back and painted my vision of this imaginary water carnival.
Below are progress images.