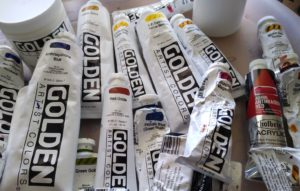 When I was growing up in Ukraine, I was enjoying one of the remnants of soviet regime: access to quality child extracurricular activities. In particular, I attended Art school in Kiev which was government sponsored. We had classes 3-4 days a week in drawing, painting, composition, sculpture and art history, and it was a pretty awesome place with great teachers, one of my happiest childhood memories.
At that time we were pretty limited in art material resources. When I look at my old artwork, I can only sigh. I liked pencil and pen and ink the most then, and I have an inkling why. I remember I could not get the paints to do what I wanted no matter how hard I tried. No wonder, we had pretty awful gouache that would be barely acceptable out of the bottle and would produce dull colorless mixes. Watercolors were a little better for those lucky ones who managed to score a better set from St. Petersburg. So I limited myself to the monochrome drawing and had all the fun.
When I decided to paint again and took a class in Foothill college in 2011, I chose to use acrylics: I have tried oils by then and could not stand the solvent smell. The best advice we were given that I want to repeat here: buy artist grade paints. Yes, they are much more expensive. Yes, it's very tempting to get student grade and if you are just starting out, you will stand in front of the shelf and debate with yourself if it's worth all this money. After all it might be a new hobby and you are not sure if it will stick. Still, if you are not sure if you will continue, buy small tubes, cheaper brand, or share with a friend your first set, but do get artist grade. Otherwise you'll be fighting with your paint to do what you want, and it won't cooperate and you will get duller paintings and won't even know why you don't like what you make. Once you know you'll continue painting, you can save by buying larger jars (Golden has up to 32oz jars I believe) and that way you can save per ounce. Buy online. I use dickblick.com but there is also jerrysartarama.com and cheapjoes.com.
Personally I use Golden heavy body and fluid acrylics. These are wonderful highly pigmented paints resulting in clear colorful mixtures and I highly recommend them. There are many other options. For people who would like longer drying times, Golden has Open acrylics line which take a lot longer to dry (though not as much as oils). I also used Windsor & Newton Artist's acrylics and initially switched to Golden because I liked the wider opening and cap design of their tubes. Also availability of larger jars offer opportunity for savings now that I paint larger and heavier and use tubes much faster. However many other brands offer high quality artist grade paints, and if they happen to be more budget friendly, by all means use them.
On the other hand, I found no difference in what kind of brushes I used for acrylics. I tried both expensive high end and very cheap ones priced a couple of dollars each. And honestly, all worked well enough. One word of caution: natural bristle brushes are marketed as suitable for acrylics as well as for oil, but I believe they are not. Natural hair absorbs too much water and becomes clogged and misshapen with acrylic paint. Best kind of brushes for acrylic are synthetic.